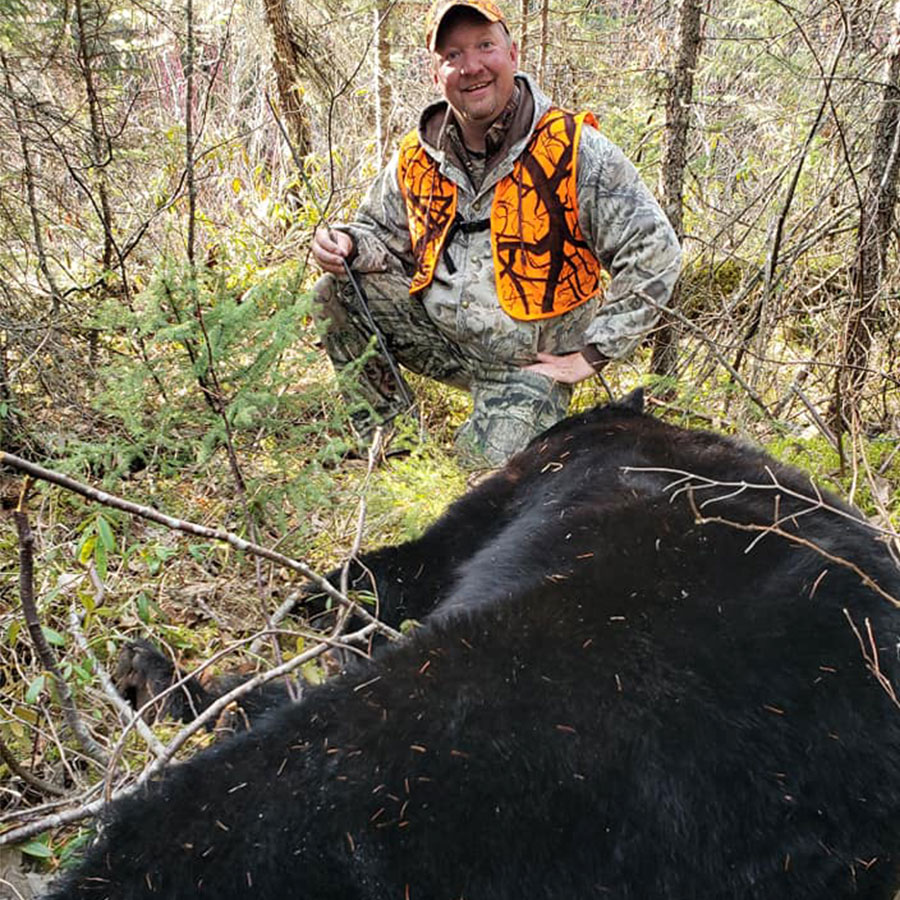 Black Bear Hunting Rates and Information
Here at Trappers Point Camp you can experience the thrill of hunting in our private bear management area. We have approximately 750 acres of pristine hunting land allocated only for our guests which we actively bait in the months leading up to the hunting season. Many of our sites are monitored with trail cameras so we can monitor the size and numbers of bear hitting our stands. We purposely try to limit the number of bear hunters we host each season to give both out guests a better chance at a successful hunt and to ensure a healthy  population of bears for years to come.

Our bear management area is located 30 minutes north of camp up Hwy 599 and ends near Pickle Lake; this is an extremely remote and private hunting experience. With your bear hunt, we provide a boat and motor affording you access to not only Sturgeon Lake but numerous other remote lakes within 2-3 miles from your baited sites allowing you to both hunt and fish.
We have a 4-wheeler at camp for assistance in retrieving your bear but also encourage bringing your own 4-wheeler for easier access to your baited sites. Our baited stands are anywhere from 40 yards off of the road to 3/4 of a mile down 4-wheeler access trails. We also have few more remote stands that can only be accessed via boat on 2 different lakes for those seeking even more adventure.
We also offer the opportunity for hunters that would like to bring other guests along with them that don't prefer to hunt a very reasonable rate for fishing only. Just let us know your requirements and expectations and we can help you plan the trip of a lifetime.
1 Hunter: $1600.00
2 Hunters or more: $1500.00 each per Hunter
Each additional guest for fishing $350.00

Spring black bear season will run May 10th to May 17th depd
The black bear season will run August 15th through October 31st
We run all hunts from Saturday to Saturday
Check in is anytime after 10 AM, Checkout is 9 AM

Cabin for up to 4-8 people
Full 6 day hunt, Sunday to Friday with possible Saturday if early arrival.
Minimum of 2 active baits per hunter
Daily bait supply for your bear hunt
Boat and Motor combo per 2-3 hunters for morning fishing or after your tag is successfully filled
Assistance in retrieving your bear (4 Wheeler)

Not Included in your hunt:
Bear Hunt License ($235.96)
Sport Fishing Licence – Optional ($52.41)
Food and Drink (Housekeeping accommodations)
Game Handling of your kill
Firearms Declaration Form ($25 – read below)
Outdoor Card if you don't have one ($9.68)
Conservation Fishing Licence – Optional ($29.97)
Tree Stands or Ground Blinds
Transportation to and from hunting area
Our experience staying with other fishing camps, lodges, and resorts has given us insight into what makes a successful fishing trip and how and how not to treat our guests.