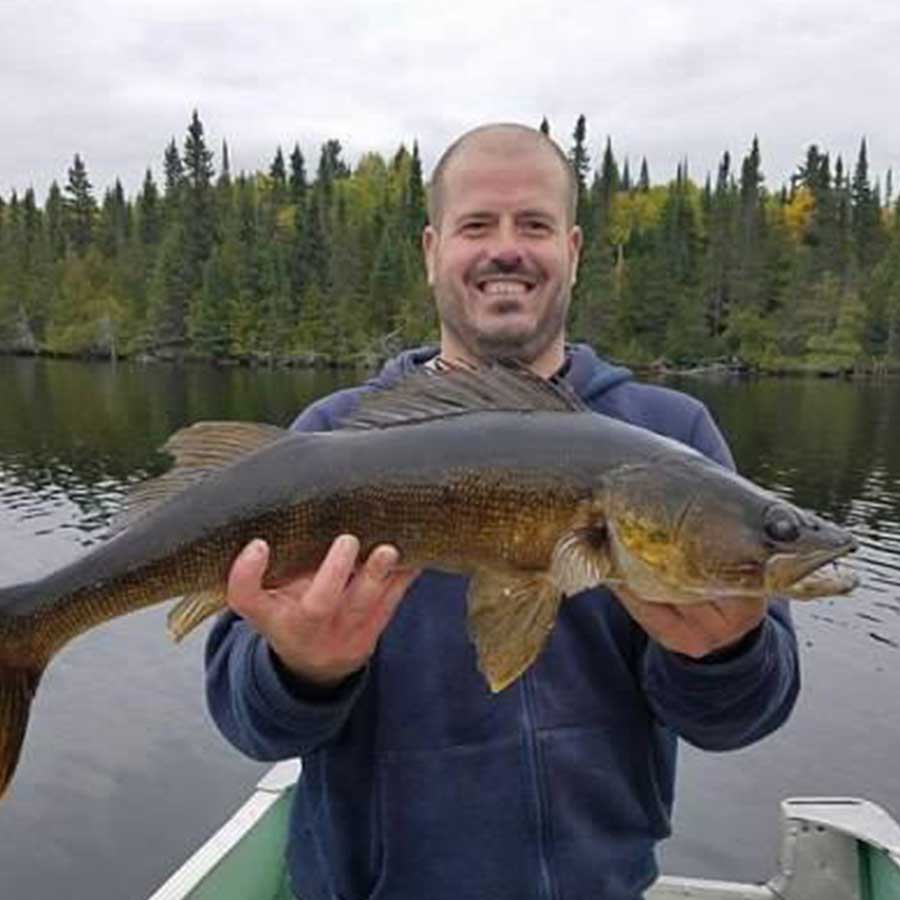 You will have the best experience when your well prepared!
First off, having prepared for nearly 100 trips to Ontario, we have a good idea of what to bring to your next fishing trip. Try to make a list of all of the food, equipment, and supplies you will need and use this checklist to pack and prepare for your next trip. If you have any questions please just call or e-mail and we can offer some advice.
Ontario Boat Safety Information:
Non-residents operating their own boats do not require proof of competency (ie. boating safety card). Non-residents renting a boat in Canada have 3 options to satisfy the boating safety requirement:
A Canadian-issued pleasure craft operator card.
A completed boat rental safety checklist (for power-driven rental boats).
An operator card or equivalent that meets the requirements of their state or country.
We have the boat rental safety checklist at the camp and will complete this with you when you arrive. The boat rental safety checklist will satisfy the requirement without the need for a course.
Here is a link with information regarding the regulations: Click Here

Frequently asked questions
Do you offer an american plan with food?
No, we do not. However, the town of Savant Lake is 5 miles to the north with a restaurant and grocery stores.
Do you have gas available on site?
Yes we do sell gas on site and 5 miles to the north in the town of Savant Lake the grocery store also has gas and diesel available.
Can I bring my own boat to Trapper's Point Camp?
Yes! Simply let us know when booking your trip if you are bringing your own boat or renting a boat/motor from us.
What should I know about crossing the border into Canada?
Please visit the Canada border crossing web site for up to date information about entering into Canada as you can never be over prepared for a long trip.
Please have a look at Border Crossings as they offer some advise if you have any concerns about admittance into Canada.

Admittance into Canada with a DUI can be very troublesome so if anyone in your party may have one make sure to check with the above links as this is a very strict rule they have and can sideline people on there trips.
.
Are Deposits Required?
Yes, a $500 deposit is required to secure a reservation.

Can be refunded if cancellation is before 90 days of your stay.

Can be paid with a personal check.
.
Which forms of payments are accepted?
Cash

Traveler's Check

Please note that our rates are quoted in US funds

Taxes are extra and gratuities are not included

Personal checks
.
Should I purchase a fishing license before I arrive at Trapper's Point Camp?
Yes, you will need both a fishing license and a valid outdoors card to fish in Ontario.
You have two options to obtain a fishing license or outdoors card.
We recommend that you purchase your fishing license online from the Ontario 

Ministry of Natural Resources

 web site. You will also be required to obtain an "Outdoor Card" from the same site. 

There are local gas stations on the way to also purchase your fishing license if you choose not to use the online option.
We DO NOT sell fishing licenses from our camp.
.
What items are available at the "Trapper's Point Camp"?
Free WIFI! We have 1.1 GB bandwith per day limit total so limited texting and internet browsing allowed. Due to bandwidth restrictions no streaming allowed.

Tackle is limited based on proven lures that work well on Sturgeon Lake.

Ice

Minnows

Gas
.
What are the arrival and departure times?
Check in time is after 4:00 p.m. Check out time is 8:00 a.m. All packages based on PM arrival and AM departure. Early check-in & late check out subject to additional charges
.
Are guides available?
Yes, Robert Snider, the current owner is available to guide based on availability. I also include a free 4-hour lake trout guided trip for groups that book in July and August that are 4 or more in size!
What's the best month to come fishing?
Truly anytime is great for fishing on a lake the size of sturgeon also with the possibility of traveling to some of the day trip lakes we provide for truly non-stop fishing action any month and anytime during the day.
.
What's the best month to come fishing?
Truly anytime is great for fishing on a lake the size of sturgeon also with the possibility of traveling to some of the day trip lakes we provide for truly non-stop fishing action any month and anytime during the day.
.
Do you sell bait? Can we bring bait?
Yes, We do sell minnows @ $4.00 per dozen. Leeches and worms @ $4.00 a dozen are also available please order before arrival so I can have them on hand.

You may import earthworms as long as they are packed in artificial bedding. But it's illegal to bring live minnows or leeches into Ontario. The same goes for live fish, smelt, wax worms, crayfish and salamanders. Frozen or salted minnows are allowed.
.
Beer, Liquor and Wine?
Most anglers know that Ontario allows adults of drinking age to import, free of duty, one of the following three alcoholic beverages: a case of beer (24 (12oz) cans or bottles), a 750ml bottle of liquor or 1.5 liters of wine. If you're bringing in more, declare it and pay the duty and tax. Alternatively, you may buy beer, wine, and liquor from a retailer in Ontario.
.
What do I need to bring to Trapper's Point Camp?
Life jackets, bath towels, food, personal items, cameras, binoculars, fishing gear, quality lines, lures, and leaders, rain gear, warm/cold weather clothing, passport/ID, snacks, bug repellent, sun screen and sunglasses. Also See Checklist
.
What to Bring / Checklist
Bath towels

1 Gallon or bigger bags for fish processing or a roll of vacuum seal bags for use of my vacuum sealer at no cost.

Personal items – soap, shampoo, etc.

Cameras

Binoculars

LIFE JACKETS

Minnow bucket for bait.

Shore lunch equipment

Fishing gear, tackle, etc.  Bob may have a limited supply of his favorite lures for sale

Food

Prescription Medications

If using your own boat, you must bring a safety kit.

Sunscreen, lip balm
Popular Lures
Click on each link below for pictures, description, and reviews from top sites.
Lake Trout lures
* Husky Jerk-5/8oz-Silver/Blue for Lake Trout in the spring.
* Heddon Sonar in Silver Blue color works great for summer vertical jigging for Lake Trout.
* XPS Floating Minnow in Chrome Blue Back or Olive Ghost Shad color and size 3-7/16″ and 3/16 oz usually works best also for Lake Trout in spring.
Lake Trout fishing with suckers.
* I use the 1/2 oz size for my egg sinkers.
* I use size 2 hooks. Gamakatsu is the best in my opinion.
* Any good barrel swivel will work.
Walleye Lures
* Rattlin' Rapala is excellent trolling for walleye. I also caught my 46″ Northern Pike on this lure. The lure has been around for many years. Firetiger 2″ 3/8oz is my favorite.
* Marabou Jigs, in general, seem to outperform regular standard jigs. I like this brand size 1/8oz color double pink. Good for any time of the year.
* The Original Floating Rapala is great for walleye. I like size NO. 18-7″ color Silver. Comes with 3 treble hooks.
* Walleye Spinners is a must-have to locate walleye. When the bite is hard I suggest running a spinner with needle weight. I make my own but here is an example. Will have custom made ones available on site.
* Goes with the above link I like using these 3/4oz weights just need a 2-way swivel for a complete spinner setup.
Northern Pike Lures
All the above lures work great for pike however all I use exclusively is the Mepps Sysclops below.
* Mepps Sysclops by far the best lure I have used for Pike. I use the hot orange in 1oz weight.
General Items needed for fishing.
* Baker Hookout nice for those pesky pike! 9 and 1/2 inch for longer reach.
* Baker Mouth Spreader always good for those pesky pike also as they inhale their bait.
* Sampo Leaders I use them exclusively and never lost a fish on them. Hold up well and don't kink easily. You definitely get what you pay for.

Here is also a list of how we here at Trappers Point Camp help to make your vacation a trip to remember!
As a owner I check up on my guests daily to make sure they have everything they need for their vacation. Been to a place where you saw the owner at check in and only at check out? That won't happen here at Trappers Point Camp. 100% satisfaction is my goal!
I will fillet your fish as needed for any reason when available. Enjoy boneless Northern Pike!
I will give you any knowledge of the lake fishing spots which we have great maps for sale with marked spots for most species.
When you rent any of our boats I have personal trails on the GPS units to many fishing spots all over the lake close and far away to help you as a customer navigate to and from camp!
July and August enjoy 10% off and a free 4 hour Lake Trout trip with the owner Bob Snider.
Not find what you are looking for? Reach out to us so that we can answer any questions you might have.