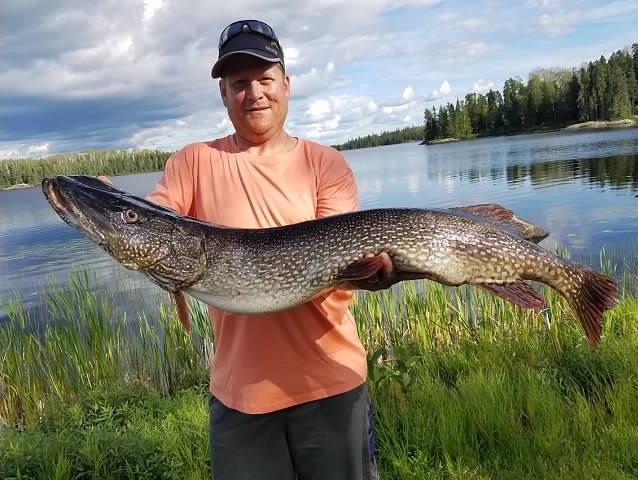 Northern Pike fishing at Trappers Point Camp on Sturgeon Lake located near Savant Lake, Ontario
Sturgeon Lake consistently produces large numbers of Northern in the 25 to 40 inch range while also producing some 45-50 inch (20-35Lb) fish each year. We think the Northern grow so huge due to the abundance of Walleye, Lake Tout, Whitefish, and smaller Northern in addition to the sheer amount of shoreline and islands which provides excellent habitat for these big Pike.

Northern Pike Fishing Tips
We like to fish the shoreline of the channel running from the camp to the open water. The channel has patches of weedy shoreline and is about 30-40 feet deep and leads into the 125 feet deep open water giving large pike ample room to roam and access to several species to feed on. We have other spots which we like and Bob can point these out to you on the map when you arrive.
Trolling: We like to use shallow running or top-water baits using a long line technique by letting out 100-200 yards of line which often will yield trophy pike that would otherwise get spooked by the boat.
Casting: We use brightly colored spoons and work shorelines, islands, and rock piles casting close to shore and retrieving at a fast pace.
A couple of people whom we have fished with through the years like to eat Northern over Walleye. Bob has become quite efficient at filleting Pike so that they are free of bones while preserving as much of the flesh as possible. Just ask Bob and if he has time he will fillet out your Northern or show you an easy way to get out those pesky Y-Bones.

Our experience staying with other fishing camps, lodges, and resorts has given us insight into what makes a successful fishing trip and how and how not to treat our guests.