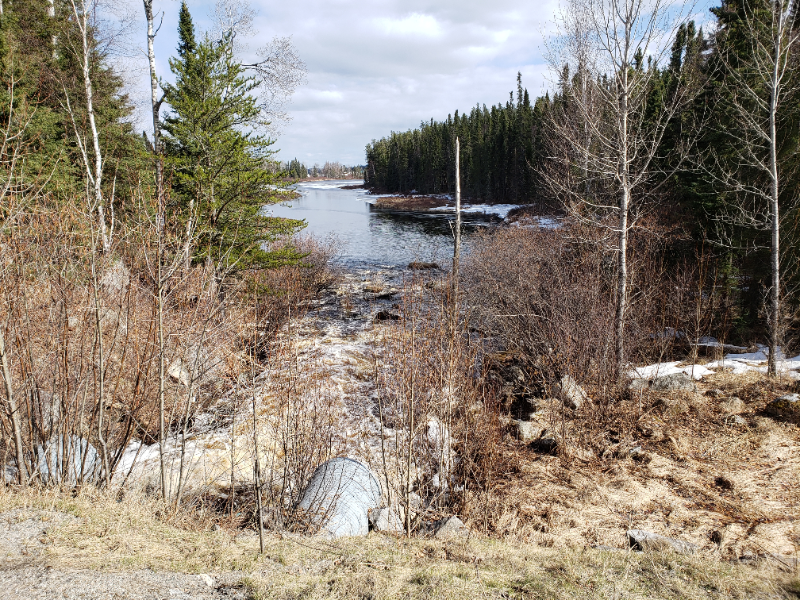 Why choosing Trappers Point Camp is the right decision!
Trapper's Point Camp is Unique
Part of what makes Trappers Point Camp so unique is the fact that Trout Creek flows into Sturgeon Lake right past our cabins and brings with it a source of cold, stained, fast running water favored by walleye looking to spawn on Sturgeon Lake in the spring. So much so, that the M.N.R. has identified the area next to our cabins as a fish sanctuary to protect the large numbers of walleye which travel to our area to spawn.
What does this mean for the guests renting our cabins? These large numbers of walleye are traversing the shorelines near our cabin rentals which in turn provides excellent walleye fishing within 200 yards of the dock which is the legal area to fish during the walleye spawn which is far enough away from the spawning area.


On top of excellent walleye fishing, Sturgeon Lake also yields good numbers of huge Northern Pike each year. The many isolated bays, islands, and sheer amount of shoreline on Sturgeon Lake gives our anglers endless prime fishing structure.
While Sturgeon Lake is an excellent destination for Walleye and Northern Pike, it is also one of the premier Lake Trout fisheries in all of Northwest Ontario. Where are cabin rentals are located the water is referred to as stained or tea colored which is excellent for Walleye. However, as you venture a short distance from our cabins, the water turns crystal clear, cold, and very deep which is the perfect habitat for large numbers of huge Lake Trout. In the spring, Lake Trout are caught in shallow water but as the lake warms up during summer, down riggers can be used to get down 60' to 80' to cold water where the Lake Trout stay until fall when they move shallow once again.
Here is also a list of how we here at Trappers Point Camp help to make your vacation a trip to remember!
As a owner I check up on my guests daily to make sure they have everything they need for their vacation. Been to a place where you saw the owner at check in and only at check out? That won't happen here at Trappers Point Camp. 100% satisfaction is my goal!
I will fillet your fish as needed for any reason when available. Enjoy boneless Northern Pike!
I will give you any knowledge of the lake fishing spots which we have great maps for sale with marked spots for most species.
When you rent any of our boats I have personal trails on the GPS units to many fishing spots all over the lake close and far away to help you as a customer navigate to and from camp!
July and August enjoy 10% off and a free 4 hour Lake Trout trip with the owner Bob Snider.
Not find what you are looking for? Reach out to us so that we can answer any questions you might have.
[caldera_form id="CF5c941512b8e19″]