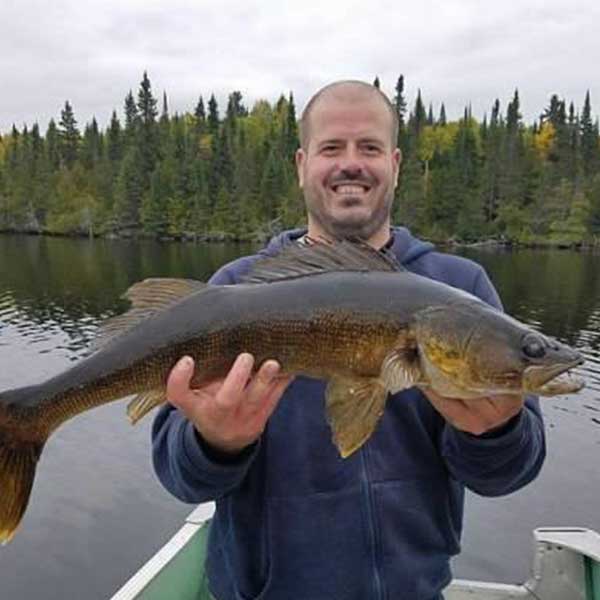 Walleye fishing at Trappers Point Camp on Sturgeon Lake located near Savant Lake, Ontario
At Trappers Point Camp our cabins are positioned at an ideal location for Walleye fishing on Sturgeon Lake Ontario. Walleye gather right next to the shoreline around our cabins each spring to spawn in huge numbers as the cold, fast running, and stained water of Trout Creek flows into Sturgeon Lake in Ontario.
This means that our guests have access to large numbers of trophy Walleye as they move in and out of the spawning grounds; traversing the shorelines a few hundred yards out from our cabins meaning you don't have to waste precious fishing time and fuel motoring to the fish.

Walleye can be caught all season long in Sturgeon Lake and as the lake warms up the Walleye move out to deeper, colder waters and bite especially well in the early morning and late afternoon/evening. We find a good strategy is fishing for Walleye in the early morning and then going for Lake Trout or Northern during the day, enjoying a nice shore lunch along the way and then getting some Walleye to cook back home at the cabin.
We have caught Walleye using a variety of methods using live bait or artificial. We have live bait for sale at the camp along with a limited supply of our favorite lures that have worked for us in the past. If you have any trouble locating or catching Walleye, just ask Bob to show you on the lake map where they are biting and or what lures are working. Alternatively just call ahead and Bob will let you know what lures and colors are hitting so you can come up prepared for excellent Walleye fishing.
Trolling: Spinner rigs for minnows, leeches, and crawlers. Bright colors such as red, white, or chartreuse to stand out in the stained water. Crankbaits that run 4-12 feet deep, we've had really good luck using the Rat-L-Trap in red/silver for both Walleye and Northern. Also, on one of our final trips out in September 2013, one member of our group caught a 28 inch Walleye trolling with a 6-8 inch silver/black husky jerk in 5-10 feet of water. It was a spot we had not fished for Walleye in before but plan to this upcoming year.
Jigging: By far we do the best with brightly colored ¼ to 3/8 ounce marabou jigs tipped with live minnows, crawlers, or artificial baits. Plain lead jigs with live or artificial bait also work well.
At Trappers Point Camp we have everything you need only feet away from your cabin. If you don't enjoy cutting up your walleye, just let Bob know if he is around at the time you come in he will gladly fillet your fish for you while you enjoy your vacation in our cabins at Sturgeon Lake in Ontario. I don't know to many resorts or lodges that will do the same making your vacation a more pleasant one.

Our experience staying with other fishing camps, lodges, and resorts has given us insight into what makes a successful fishing trip and how and how not to treat our guests.